In addition to providing resources online and at the Sahyun Genealogical Library, the Society actively engages with the local community. Our aim is to convey the value of studying family history as a way to enhance understanding of ourselves and our heritage. 
We hold events at our library and in the community, provide exhibits on aspects of local history, provide speakers to schools and community groups, and more.
October is Family History Month, which always has an array of special activities for the genealogical-minded. 
14th Annual Asian American Neighborhood Festival El Presidio de Santa Bárbara State Historic Park 123 E. Canon Perdido, Santa Barbara, CA
Sunday, October 15, 2023 • 11a.m. to 3 p.m.
The Santa Barbara Trust for Historic Preservation presents the 14th Annual Asian American

Neighborhood Festival; a free, family-friendly event celebrating the Asian American communities that once thrived in and around the Santa Barbara Presidio neighborhood.
For more details please visit their website.

The Santa Barbara County Genealogical Society will be participating in this event, highlighting our Asian American Exhibit, Family History Month, and our library. We hope to see you there.

Michael Towbes Library Plaza Ribbon Cutting Community Festival Santa Barbara Public Library Spring 2024
The day will begin with the ribbon-cutting followed by performances from CAMA, the Choral Society, Flamenco Santa Barbara, Opera Santa Barbara, Folklorico, and more!
Anapamu Street will be closed from State Street to Anacapa Street for tabling from nonprofits across the community (including the Santa Barbara County Genealogical Society) with activities for all ages, library tours, Friends of the Library Book Sale, and film screenings in the Faulkner Gallery!
Old-Fashioned 4th of July at the Stow House in Goleta
Santa Barbara Asian American & Pacific Islander Heritage Exhibit 1870s – 1970s
The exhibit will be on display at the Sahyun Genealogical Library through the end of the year. The exhibit has photos and historical accounts of local families, churches, military, and industries.
KEYT covered the debut of the exhibit on Sunday, May 7th. Their video highlighted the event which included booths from community organizations.
Explore the planned, current, and past genealogical exhibits organized by the Society – some are virtual. 
Explore the planned, current, and past genealogical exhibits organized by the Society – some are virtual. 
Society Events, Past & Present
Find out about the community events hosted by the Society.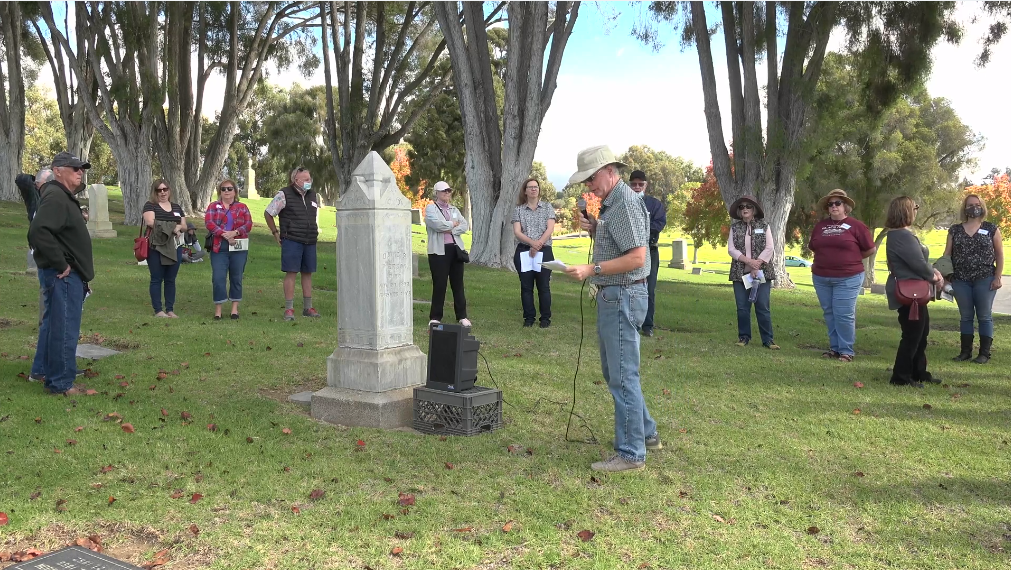 If your group is interested in having one of our members give a virtual talk on a genealogical subject or a presentation about the Society, please contact the Outreach Committee. 
Celebrate Family History Month Activities Each October
Each October, the Society celebrates Family History Month with an open house, other special events, classes, workshops, and more.