Homepage Slider
Welcome to the Santa
Barbara County
Genealogical Society
We welcome everyone who is researching their family history and offer assistance, training, first-person stories, and a sense of community – as well as records and resources.
Although our name may say "Santa Barbara County," we're not geographically limited. Our Sahyun Library contains books, periodicals, and resources from around the world.
For over 50 years, we've amassed more than 200,000 primary-source Santa Barbara records and indexes, which have been digitized and are searchable here online.
Our Society is operated entirely by volunteers who are enthusiastic about genealogy.
If we help you, please consider a donation or join us. As a Society member, you'll learn new skills and share stories, experience, and expertise as part of a congenial genealogical group.
Enjoy your search!
Search 200,000 digitized primary-source local documents and indexes, such as birth, death, marriage, court, naturalization, and cemetery records. Find other useful local resources to aid in your search
Current hours are from 10 a.m. to 4 p.m. on Tuesdays and Thursdays, and most Sundays from 1 p.m. to 4 p.m. Plan your visit, explore the Library Catalog, and discover resources only available at the Library, located just four blocks from the beach and train station.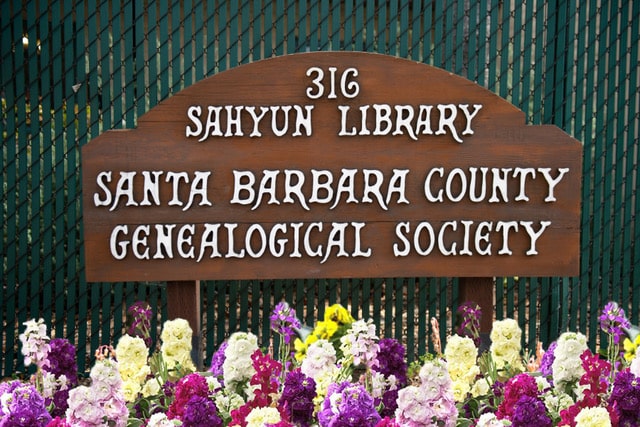 Who is the speaker at this month's meeting? How do you join a special interest group (Civil War, Early California, German, DNA, Beginning Genealogy, etc.)? Are there upcoming seminars? Our events calendar is also here.

"During one of our Jewish Genealogy SIG meetings, we were able to interpret a gravestone for a member and help her confirm the identity of her ancestor."

"Following one of the meetings of our Family History Writing SIG, one of our members was inspired to begin writing an article that she had long experienced writer's block about and even to complete it that very day."
Family History Writing
Special Interest Group

"At a meeting of the Jewish Genealogy SIG, I was introduced to the Find a Grave website and discovered the image of my grandparents' gravestone."
Our Outreach Committee organizes events and exhibits at local venues. Find out where and when to find them. Don't miss details on Family History Month, held each October, which is jam-packed with public programs