The Society's Sahyun Genealogical Library is a non-lending research library open to the public. It contains over 16,000 items, including books, newsletters and journals from many genealogical societies all over the world; access to genealogical databases; 12 computer workstations, Wi-Fi, work tables, and meeting rooms. Helpful volunteers are available to assist with research questions.
Search the Online Library Catalog
On first use, you will need to type in "SBCGS" in the upper box. No password is needed. Once you find items you are interested in, you can save them to the clipboard, print out the list, and bring it to the library.
Resources Available At The Library
Over 16,000 volumes on the shelves representing most regions of the world. Topics include: family histories, census and vital records, land records, cemetery records, immigration, local county histories, lineage societies, military history, and so much more.
Large collection of directories, yearbooks, and local history from Santa Barbara County
More than 100 books, formerly on compact discs, have now been converted to searchable PDF files.
Over 750 periodical titles, including newsletters and journals from genealogical societies all over the US, Canada, Australia, Great Britain, and Europe; of these, 225 titles are now digitized and searchable from the library computers.
Access to subscription databases is available in the library only. There is no remote access.
Ancestry.com Library Edition – world's largest collection of online family records
Newspapers.com – World Edition
American Ancestors (formerly New England Historical Genealogical Society)
Fold3 – Military records
FindMyPast – US and UK records
FamilySearch – As a Research Affiliate Library, we provide free access to digital records, books, and images in the FamilySearch Library, some of which are available only at affiliate libraries. You will need to log in using your own account name and password.
PRDH – Quebec's Catholic baptisms and burials as well as all of Quebec's marriages for 1621-1849
Surname files and locality files include family group sheets, pedigrees, articles, photographs, small brochures, maps and other unbound materials, arranged by surname, place, or subject. A "S" or "L" prefix before a call number in the online catalog indicates an item is in the vertical file and not on the bookshelf.
The library has several hundred individual maps, many of Santa Barbara County, a large collection of Ordinance Survey maps from Great Britain, and atlases of all kinds.
Over 200,000 scanned and indexed documents and records for Santa Barbara County, including births, deaths, naturalizations, and cemetery records are available in our growing database.
Access to our records database is available through our website only.
Other Essential Information
The Book Nook in the reception area has genealogical and historical books for sale, copies of Ancestors West, as well as flash drives and other supplies. We accept cash, check, or credit card.
Please turn off your cell phone ringer in the library reading room and take all calls outside.
We do not allow food or drinks in the library, but you may enjoy your lunch outside on the patio or in our beautiful garden.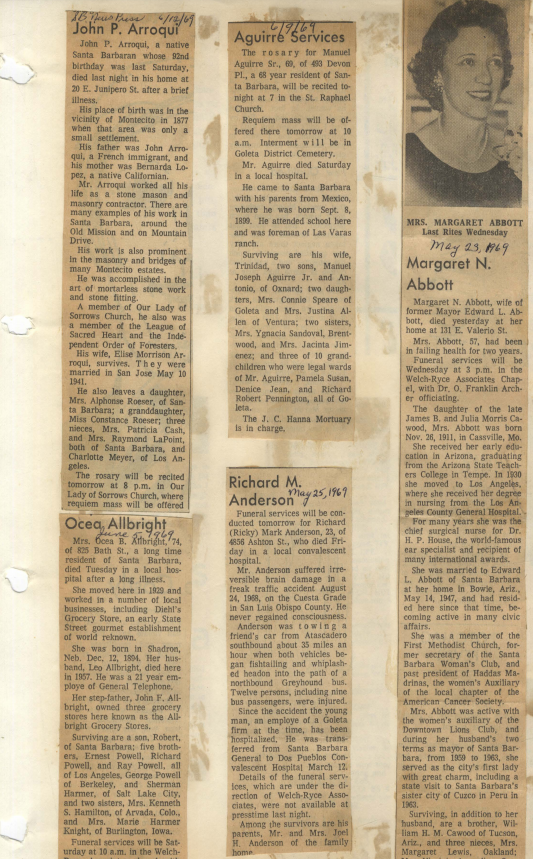 Bring your own laptop or make use of our library computers in the Computer Lab. Scanners, printers, and a photocopier are also available, as are quiet rooms to work privately.
Also helpful to bring when you visit:
Copies of your pedigree/family tree, if you have them
Flash drive
Notebook or research log, if you have one
List of what information you want to find
Use of the library is free for Society members; $5.00 for non-members.