The Society's Sahyun Genealogical Library is a non-lending research library open to the public. It contains over 20,000 genealogically related items and books, including a large collection of newsletters and journals from many genealogical societies all over the United States, Canada, Australia, Great Britain, and other countries. Computer workstations, Wi-Fi, meeting rooms, and other amenities await researchers.
Although we are the Santa Barbara County Genealogical Society, our collection of over 20,000 books and other media spans the globe. We have resources to help you research ancestors in all 50 states and many countries.
For example, our Sahyun Library holds a large collection of books on Irish genealogy, and we have the series collection of Germans to America. Other countries in our collection include Britain, France, Sweden, Poland, and many others.
Search the Online Library Catalog
The Library's entire book catalog is at your fingertips. Conduct a simple keyword search, or look by title, author, subject, ISBN, ISSN, or collection. The first time you access the library catalog, enter "SBCGS" as the library name. No password is required.
Resources Only At The Library
In addition to the thousands of books, the Sahyun Library offers nearly 700 periodicals, including newsletters and journals from genealogical societies all over the US, Canada, Australia, Great Britain, and other countries.
Surname files and locality files are available to explore, as are maps, local yearbooks, city directories, back issues of the Society's Ancestors West publication, and much more. Resources on microfilm and microfiche are cataloged and available for viewing.
As a FamilySearch Research Affiliate Library, we provide free access to FamilySearch.org online digital records (images), which are available to the public only at Affiliate Libraries.
The above are all free for you to access.
Genealogical subscriptions available at the Library (included in the $5 suggested donation for non-members, a free benefit of membership):
Ancestry.com Library Edition – world's largest collection of online family records
GenealogyBank – newspapers
Newspapers.com – Publisher's Edition
American Ancestors (formerly New England Historical Genealogical Society)
Fold3 (formerly Footnote.com) – military records
FindMyPast – US and UK records
PRDH – University of Montreal – The Research Program in Historical Demography
Explore our library catalog and find materials about countries on every continent except Antarctica. For example, you'll find 50 books on Italian genealogy and 400 on Irish genealogy. A search on "map" returns 725 results; "Mayflower" has 425.
Close to home, we have scanned and indexed many Santa Barbara County records including births, deaths, naturalizations, cemetery records, city directories, and local school yearbooks.
We welcome you to Research the World at our Sahyun Genealogical Library.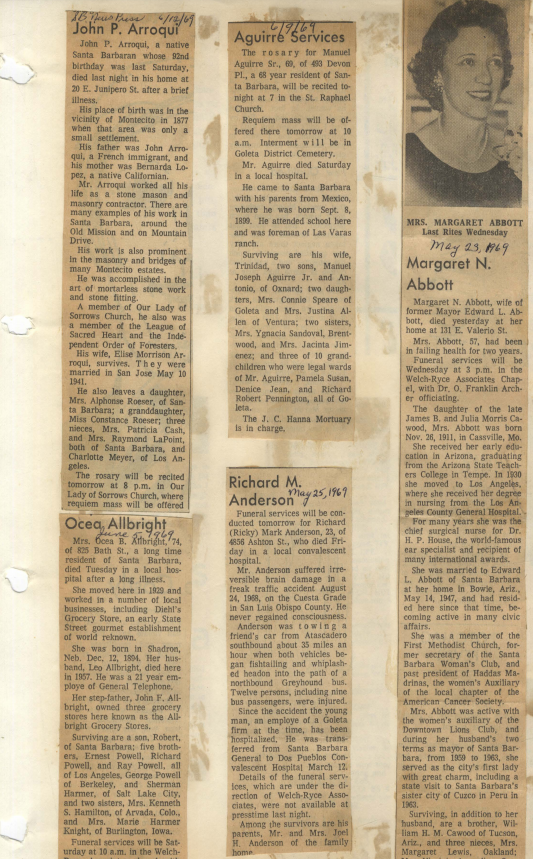 Bring your own laptop or make use of our library computers in the Computer Lab. Scanners, printers, and a photocopier are also available, as are quiet rooms to work privately.
Also helpful to bring when you visit:
Copies of your pedigree/family tree, if you have them
Flash drive
Notebook or research log, if you have one
List of what information you want to find
$5 suggested donation for the use of the Computer Lab and access to premium genealogical websites; free for Society members.