Interested in exploring your family's history?
Want to discover and meet cousins in your extended family?
Would you like to join a like-minded group that helps you advance and share your research?
The Santa Barbara County Genealogical Society welcomes anyone interested in genealogy.
Join us and enjoy membership benefits including:
Access to Sahyun Genealogical Library Computers & Subscription Sites
Library computers and network are free for use by Society members. You have access to subscription sites including:
American Ancestors (formerly New England Historical Genealogical Society)
Ancestry.com Library Edition – world's largest collection of online family records
FindMyPast – US and UK records
Fold3 (formerly Footnote.com) – military records
GenealogyBank – newspapers
Newspapers.com – Publisher's Edition
PRDH – University of Montreal – The Research Program in Historical Demography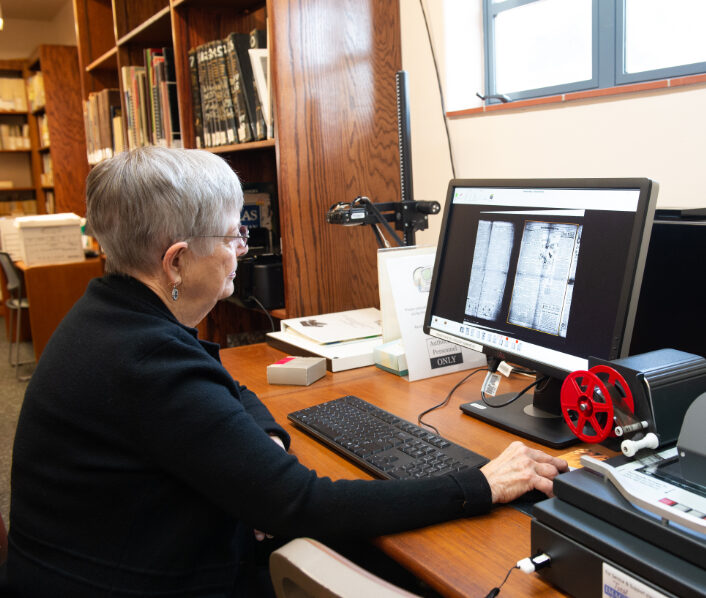 Society Publication Subscriptions
Receive Tree Tips, our monthly newsletter, and Ancestors West, our quarterly publication with articles about genealogy and family history.
Access to Members-Only Website Content
Includes Webinar Archive to see past webinars on fascinating genealogical topics, archive of our Ancestors West publication, and Member Resource Packet of useful information, and much more.
Library volunteers are available to assist members whenever the Sahyun Library is open.
Need help with your research? We have coaches to help you. A list of our coaches is available online and at the front desk. The Coach Coordinator can help if you're not sure which coach to contact.
Reduced rates for research documents and special events.  Members pay half-price for copies from our local Santa Barbara County records database, and receive reduced rates for special events.
Purchase special supplies and genealogical books, both at the Sahyun Library and at meetings.
Admission to Membership Meetings
Join us each month (except August) for guest speakers, panels, demonstrations, and reports on recent activities. Special Interest Groups meet before each meeting, and refreshments are provided when we can meet in person.
We are a group that shares your interest in family history research and look forward to welcoming you as a member.

"During one of our Jewish Genealogy SIG meetings, we were able to interpret a gravestone for a member and help her confirm the identity of her ancestor."

"Following one of the meetings of our Family History Writing SIG, one of our members was inspired to begin writing an article that she had long experienced writer's block about and even to complete it that very day."
Family History Writing
Special Interest Group

"At a meeting of the Jewish Genealogy SIG, I was introduced to the Find a Grave website and discovered the image of my grandparents' gravestone."