The proclamation from the city of Santa Barbara – honoring our 50th Anniversary and National Family Stories Month – was presented by Mayor Randy Rowse to our President, Art Sylvester, on November 15th at City Hall. Watch the presentation here.
Holly Snyder, Karen Ramsdell, Art Sylvester, Marie Sue Parsons, Mary Hall
The Santa Barbara County Board of Supervisors presented its proclamation on December 13th.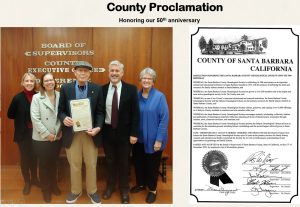 Kate Lima, Holly Snyder, Art Sylvester, Ted Tazer Myers, Karen Ramsdell