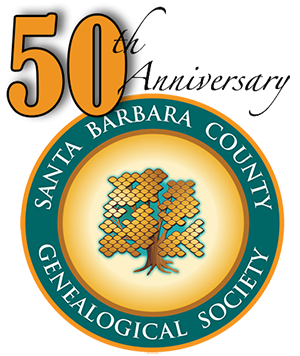 To commemorate this achievement, SBCGS launches our 2022-23 annual appeal on October 1 (the beginning of Family History Month) with a goal of $35,000.
Especially this year, as we move out of Covid times, donations and regular contributions are greatly appreciated to help fund SBCGS: family history educational programs; completion of our new website; technology enhancements for in-person and remote classes; virtual and "hybrid" meetings; new genealogy subscriptions; records preservation projects; regular library operations, and so much more.
Right behind the over 10,000 hours our all-volunteer society logs in each year, SBCGS relies on the financial support of our members and the genealogical community to sustain the amazing accomplishments of the SBCGS and our renowned jewel, the Sahyun Genealogical Library.
We are sincerely grateful for your generosity and involvement as we embark on our next decade, together!
The Society is a non-profit 501(c)(3) charitable California corporation. All gifts are deductible for personal or corporate tax purposes to the fullest extent of the law. Our federal tax identification number is 95-3080681.